Discover how to make better homebuying decisions decisions that will save YOU money and help YOU avoid costly mistakes!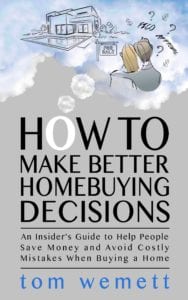 Are you sick and tired of renting? Do you want to learn how to transition out of renting and into owning a home of your own? Do you want to avoid the costly and stupid mistakes most homebuyers make? Then it's time to read this book.
How do you get out of renting and into a home of your own? Do you have the resources needed to buy a home?
– Can you qualify for a mortgage?
– Is your credit good enough?
– Do you have enough money for the down payment and closing costs?
– Can you find a home you like but that you can also afford?
Do you know who to trust and work with? The traditional real estate industry has an ingrained sales culture. As a result who can you trust? When a real estate licensee claims to be a buyer agent, will the licensee actually be your agent? Or, are they telling you something you want to hear, but that they are unwilling or unable to provide?
How to Make Better Homebuying Decisions: An Insider's Guide to Help People Save Money and Avoid Costly Mistakes When Buying a Home
---
FIRST TIME HOMEBUYERS
---
McDevitt Real Estate Closing Attorney Services - Real Estate Law Massachusetts
Have a question about Real Estate Law or need a closing attorney?  Fill out the form below or call us at 617-282-7550.
We are conveniently located in Hingham and Milton, Massachusetts.
  Contact a McDevitt Law Group Real Estate Attorney today!
Tags used in this real estate lawyer news blog post:
#Closing #Attorney #Boston #ClosingAttorney #ma #RealEstate #HomeBuying #Attorney #Lawyer #Law

McDevitt Law Group strives to provide the highest quality real estate law and estate planning services, and we have for almost 40 years. As a small law firm, we pride ourselves on providing personal attention to your case and providing the highest quality representation. Call us today, or use the contact form below.
---
Barnstable County | Bristol County | Duke County | Essex County | Middlesex County | Nantucket County | Norfolk County | Plymouth County | Suffolk County
---
Just click on the Phone Number to dial on your phone:
617-282-7550